Now with 6 studios giving you more options to book your next shoot!
Every studio can be molded to fit the needs of your shoot or production.
Studio A
1200 Sq Ft.
Not quite sure what you want to shoot or need a space with multiple options...Studio A is the studio you've been looking for. Its features 3 Strobes/Lights, Paper backdrops (White, Black, Gray) mounted to the wall for easy pull down. A Beautiful Upright
Piano, 7 x7 ft windows and 5 Creative Walls for with endless creative opportunities. (A/C Cooled Unit-18000 BTUs)
Studio B
1000 Sq Ft of Natural Light (Also with Black-Out Capabilities)
Studio B is quite simply "The Portrait Studio". Featuring 2 custom hand painted backdrops, vintage white couch, soft curtains and more. Completely Raw with Polished floors and perfect for build outs and sets. Nothing in Studio B is mounted to the wall, making the studio customizable to your creative needs.
Studio B Also Includes Backdrops (White, Black and Grey). 2 Custom Craig LeMere Canvas Backdrop. Mid-Century sofa, Hair and Make up station, Private Dressing area and 3 Strobes/Lights plus Modifers. Studio B is a Great Portrait Studio and our best natural light location. (A/C Cooled Unit-18000 BTUs)
Studio C
1200 Square feet
14' wide x 12' Corner CYC Wall, 4 Strobes/Lights. Multiple Color Backdrops, Private Make Up Area and Dressing Room, Fire Escape, Colored Gels, Lounge Area. (A/C Cooled Unit-12000 BTUs-Summer Months Only)
CYC Repaint Fee: $25- No Cost to use if already dirty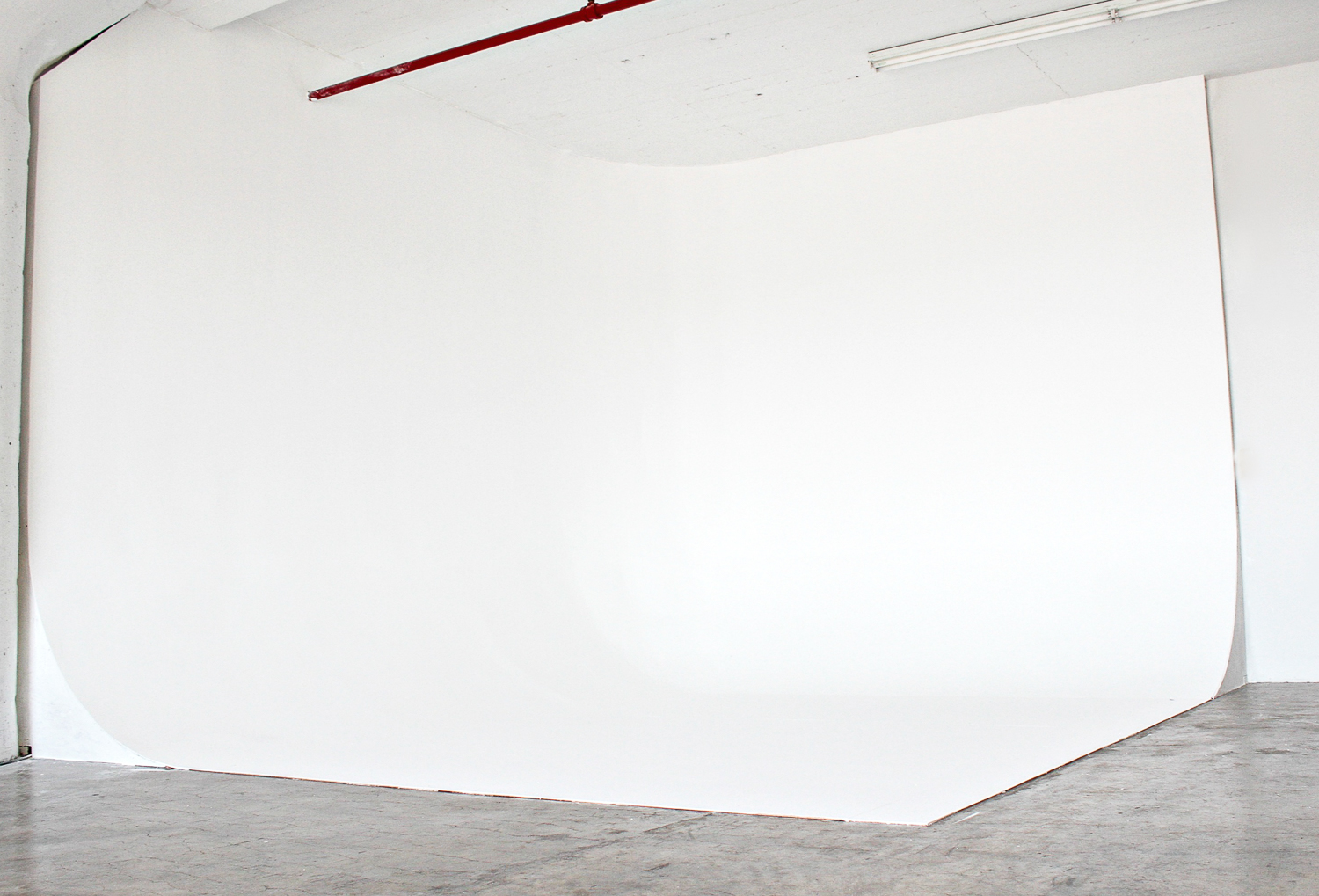 Studio D
(Rooftop/7th Street Location)
1100 sq feet
Studio D features multiple wood sets, Paper seamless, Private in-studio Bathroom and more. Studio is located at the The Rooftop Location and provides ground floor, street accessible load in. Studio is not equipped with any lighting and is primarily used as a green room/production office or overflow location.
Studio D is located at our Rooftop location which makes it a great addition to your rooftop production.
A/C Cooled Unit-12000 BTUs-Summer Months only)
STUDIO "E" For EcomM
1200 Square feet
STUDIO E will feature a pre-lit 16ft foot CYC wall for consistent white backgrounds, Creative White Roll-up Door, make-up station, White Brick Wall and MORE.
More Photos Coming Soon.
(A/C Cooled Unit-24000 BTUs)
CYC Repaint Fee: $25 - No Cost to use if already dirty
Studio F (Now Booking)
(2600 Sq Ft)
Studio F is our largest Creative Production Studio featuring vintage and rustic props giving your shoots a classic "Vanity Fair" editorial feel. Studio has a Makeup and hair station as well as a separate dressing room with multiple wardrobe racks.
Studio F also comes with an impressive 16ft x 18ft Cyc for large shoots. The shoot is equipped with multiple 20 Amp Circuits to operate Tungsten lighting for music video or film without tripping any circuits.
Studio F features Creative Walls, Wardrobe Steamer 5 Alien Bee Strobes and Profoto Light Packages (Additional Cost) and more.
(A/C Cooled Unit-18000 BTUs-Summer Months Only)
CYC Repaint Fee: $50 No Cost to use if already dirty
Want to see the possibilities at Concrete Studios LA?
or